Description
Logitech K375s Multi-Device Computer Wireless Keyboard and Stand
Logitech k375s multi device computer wireless keyboard with stand start typing on your computer, then switch and type on your phone or tablet at the touch of a key. The k375s multi-device is compatible with any computer, phone or tablet. * *Any USB-equipped or Bluetooth smart-ready device that supports an external keyboard (HID profile). Experience quiet and comfortable typing with large, concave keys in a full-size and familiar layout, including a convenient number pad and spill-resistant design. Visit the official brand store for more information.
Type A Report On Your Computer, Then A Message On Your Phone:
Imagine what a computer keyboard should be: well-built with familiar and comfortable typing. Now imagine that same computer keyboard working with your phone and tablet too. That's the thinking and design behind the k375s multi-device, a full-size keyboard and stand combo for all the screens you use at your desk.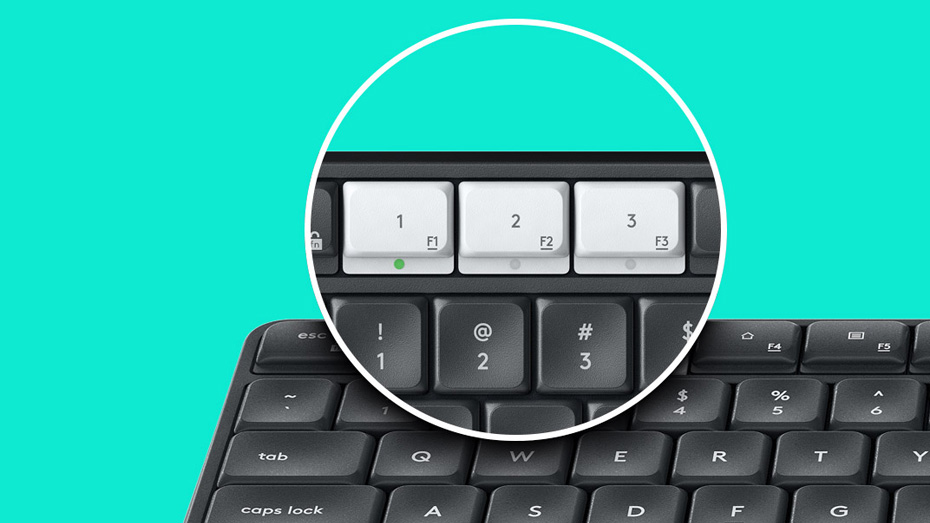 Type and Switch Between Devices:
Start typing on your computer, then switch to your phone or tablet at the touch of an Easy-Switch button. The k375s multi-device works with popular brands and operating systems including Windows®, Mac, Chrome™, Android™, iOS.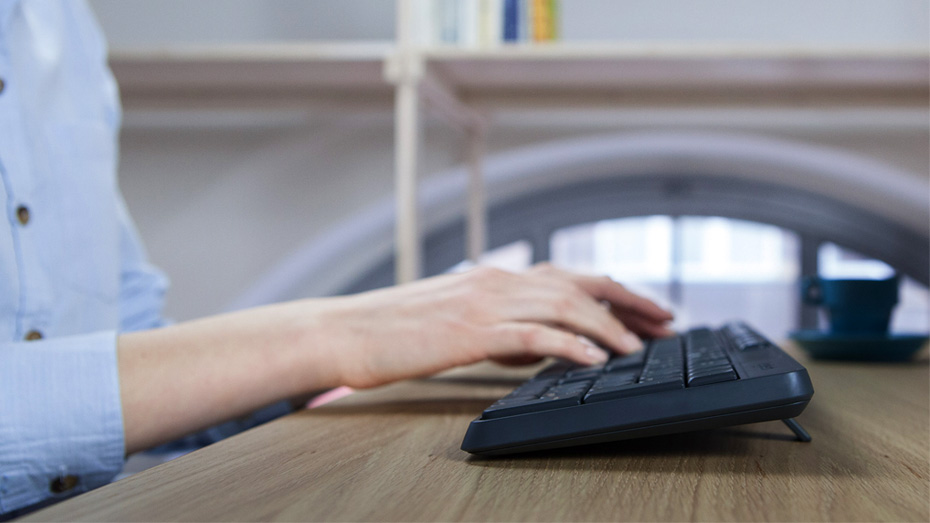 Quiet Comfortable Typing:
A full-sized keyboard with concave keys in a familiar layout provides hours of typing comfort. A 10-key number pad helps you get more done, and tilt-legs provide a choice of two different typing angles.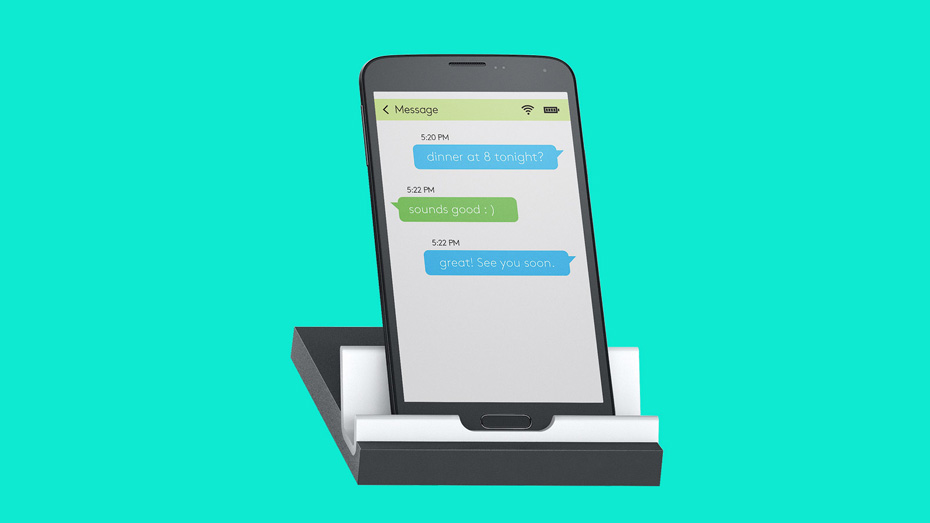 Universal Phone and Tablet Stand:
Clean up your desk with this space-saving stand for your phone or tablet. It securely holds a variety of devices at the perfect angle to read and type. Its non-slip rubber construction keeps your mobile screen stable, and the design allows easy access to the phone or tablet home key.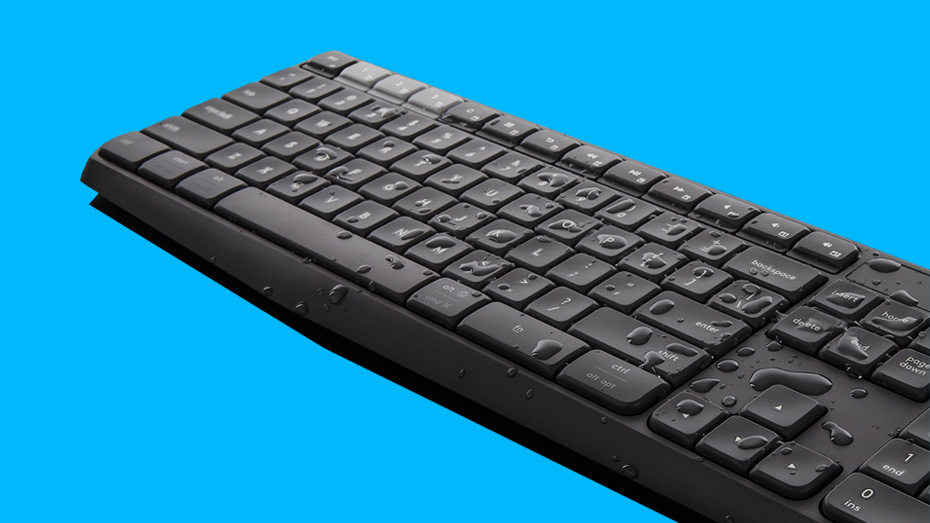 Durable and Hassle-Free:
The k375s multi-device is spill-resistant and durable. A 24-month battery life plus auto-sleep and on/off switch offers long-lasting convenience.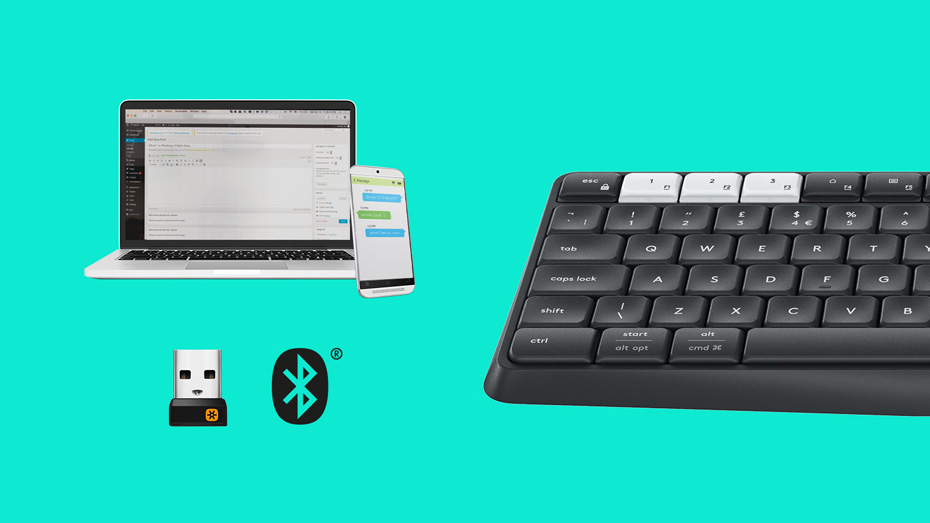 Reliable Wireless Connection:
Connect to a computer with a tiny Logitech Unifying receiver, and to your phone or tablet with Bluetooth® Smart technology. The wireless K375s supports both technologies and works from up to 10 meters away, with fast data transmission, wireless encryption, and no delays or dropouts.
Specs & Details:
Dimensions:
Height x Width x Depth: 20.5 mm x 435.5 mm x 137.5 mm
Weight: 475 g with 2x AAA batteries
Weight: 425 g without batteries
System Requirements:
Computers, phones, and tablets that support external keyboards (HID profile)
Windows® 7, Windows 8, Windows 10 or later
Android 5.0
Mac OS X 10.10 or later
iOS 5 or later
Chrome OS™
USB connection: available USB port required.
Bluetooth connection: Bluetooth Smart-ready device with keyboard support required (Bluetooth HID).
Technical Specifications:
Connection Type:
Logitech Unifying protocol (2.4GHz)
Bluetooth Smart technology
Wireless Range: 33 ft / 10 m wireless range
Wireless encryption: Yes
Software Support::
Logitech Options for Mac (OS X 10.8 and above)
Logitech Options for Windows (Windows 7, Windows 8, Windows 10 and above)
Logitech Flow
Indicator Lights (LED): 3 Bluetooth channel LEDs
Battery Indicator Light: Yes
Battery: 2 x AAA
Battery Life (not rechargeable): 24 months
Connect/Power: On/Off Switch
Package Contents:
Keyboard
Universal stand
2 AAA batteries
USB receiver
User documentation
Logitech k375s multi device computer wireless keyboard price in Pakistan. For more computer wireless keyboards visit the product category page.